---
Iain Sinclair
---
poet, novelist, editor, filmmaker, publisher, playwright, book-dealer
---
Iain Sinclair - Photograph: © Marc Atkins
"The subject, all along for me, has been: the city; living in the city; how you survive living in the city." --Iain Sinclair.
Born 11 June 1943 in Cardiff, Wales.
Educated at Cheltenham College (1956-61); London School of Film Technique; Trinity College, Dublin; Courtald Institute, London.
Sinclair's early occupation was as a documentary filmmaker. This work may have facilitated the development of an essential aspect of his poems and novels: "precise perception and the ability to 'frame' significant slices of life has fed the realist side of his writing..." --Robert Sheppard (in Contemporary Poets ).
This dirty realist side to Sinclair's writing may also have been honed by his work in a variety of odd-jobs in East London; packing cigars, tipping ullage down brewery cellars and, most significantly, working as a parks gardener in the vicinity of Hawksmoor's London churches. His work as a council grasscutter provides much of the material for the poem Lud Heat (1975), the main theme of which was borrowed by Peter Ackroyd for his 1985 novel, Hawksmoor .
Sinclair's work also has a visionary aspect: he has cited Conrad, Blake, Chatterton and the open-field poetics of Charles Olson as key influences.
In the 1970s he founded Albion Village Press, publishing fine editions of work by Sinclair himself, B. Catling and Chris Torrance.
Since 1979, Sinclair has worked as a book dealer in London, specialising in crime thrillers and the poetry of the Beats; an experience which informs the plot and panoramas of his "London" novels, White Chappell Scarlet Tracings and Downriver .
Sinclair's early work often received critical acclaim without reaching a wide audience:
"With its mixture of the esoteric and the earthy, and its combination of poetic and prose forms which gives it a unique range of tones and textures, the work of Iain Sinclair deserves to be better known." --Robert Sheppard (in Contemporary Poets ).

"The reason you can't sell them this poetry that I'm interested in is because it isn't worth money: nobody's going to go chasing after it. And what its other values might be, whether it's actually come into territory that's unexplored, whether it's making rich human connections, is of no consequence to anybody." --Iain Sinclair, interviewed in Running Down the Mountain (Channel 4's Rear Window series, 1992).
Most of Sinclair's readers came across him with the publication of his first novel White Chappell Scarlet Tracings , published by Mike Goldmark. He had announced his intention to start work on the book while hunting down modern first editions in Goldmark's bookshop in Uppingham, Rutland. Goldmark's response was: "Ok... I'll publish it if no one else wants to."
The result was a beautifully crafted hardback book, Sole Runner-up Award for the Guardian Fiction Prize and the building up of the audience Sinclair's work so richly deserves.
Following the success of White Chappell Scarlet Tracings Sinclair was appointed as Poetry Consultant by Paladin, and worked as editor on an adventurous series of contemporary poetry books.
In 1992, Sinclair worked with fellow novelist and filmmaker Christopher Petit on a film: The Cardinal and the Corpse (or a funny night out) . This fragmented and poetic essay on London writers and the sinister side of the book trade featured many of the figures who provided the inspiration for characters in White Chappell Scarlet Tracings and Downriver , including: former Kray associate Tony Lambrianou; ex-Pink Fairies guitarist Martin Stone; sculptor and poet Brian Catling; and the legendary bookdealer Drifield (aka Dryfeld). The film also includes contributions from the writers Robin Cook (aka Derek Raymond), Michael Moorcock and graphic novelist Alan Moore.
In spite of Sinclair's dismissal of television as "a narcoleptic, a sort of meditation for zombies", The Cardinal and the Corpse , made for the Channel 4 arts series Without Walls , gives us an entertaining insight into his literary obsessions and his relish for London low-life.
In his introduction to Lud Heat and Suicide Bridge (1995), Michael Moorcock charts Sinclair's development as a novelist:
"He started showing up in High-street bookshops with a tangle of bombsite brambles and gaudy fireweed, the contents of long-buried basements, the muttering bones and whispering rags of his book-dealer's trawls through a city largely unexplored by her own inhabitants and thus insufficiently respected or feared, which he called White Chappell Scarlet Tracings . He followed this with a structurally more sophisicated Downriver and then gave his widening readership Radon Daughters as glorious proof of his ever-increasing powers." --Michael Moorcock.
Sinclair is also a perceptive and dazzling essayist: he is a frequent contributor to The London Review of Books , Sight and Sound and Modern Painters .
*note: All unquoted text written by Andrew Hedgecock.
---
---
Additional Links
---
---
Of Related Interest
---
Send comments, additions, corrections, contributions to:
hwt@anachron.demon.co.uk
---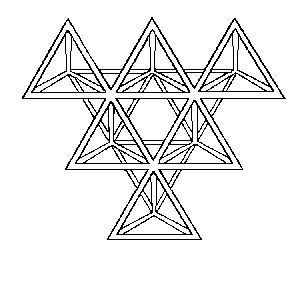 Return to Mark/Space

---
---